Registering a new site
If you are already registered then move on to Step 2. Otherwise first register yourself as an individual.
Step 1
Proceed to the Home page: www.anztadc.net
Select Register
<![if !vml]> <![endif]><![if !vml]><![endif]>
Step 2
Login using the username registered in Step 1
Select Register (again) and select Add New Site
<![if !vml]>

<![endif]><![if !vml]>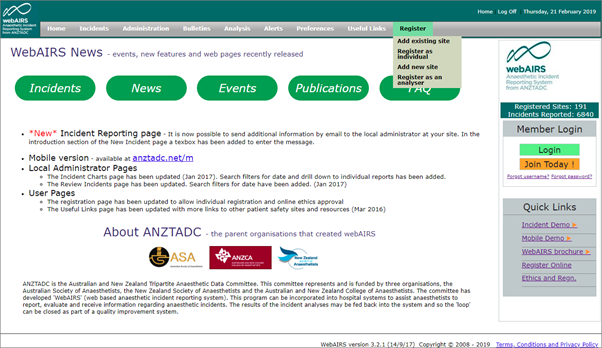 <![endif]>
Step 3
<![if !vml]>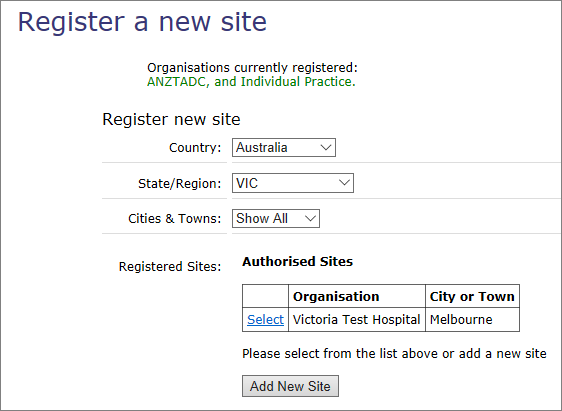 <![endif]>
Country: (select Australia):
State:(select Victoria):
Cities and Towns: (If you select 'show all' you will see which organisations are already authorised)
Select Add New Site
Step 4
You will then be prompted to accept the terms and conditions for the site which is similar to the two boxes that you ticked when you registered as an individual.
<![if !vml]>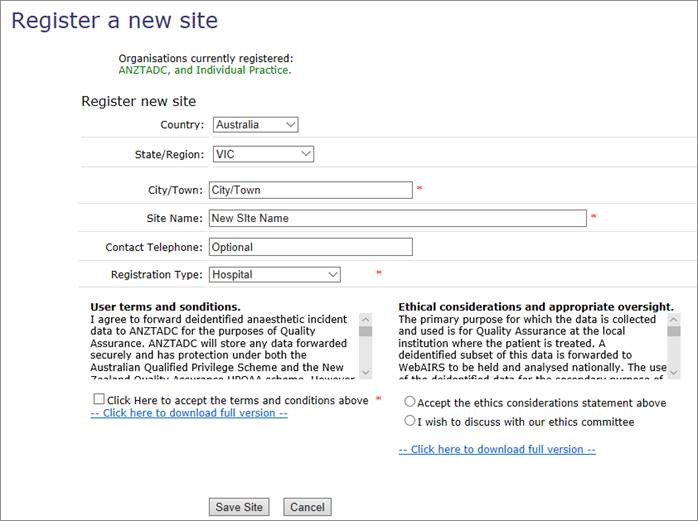 <![endif]>
City/Town: Enter the name of your city or town
Site Name: Enter the name or your hospital or other site name as appropriate
Contact Telephone: Enter your contact telephone (optional)
Registration Type: select Hospital (or Private Practice, or Day Surgery, or Other)
Save Site
Step 5
An automated message is sent to the ANZTADC Coordinator at ANZCA. Within the next 7 days you should receive a confirmation email from ANZTADC to state that you have registered the site successfully. If you do not receive an email contact anztadc@anzca.edu.au
<![if !vml]>

<![endif]>
Please let us know if you have any suggestions for improvement for this documentation.